May 29, 2019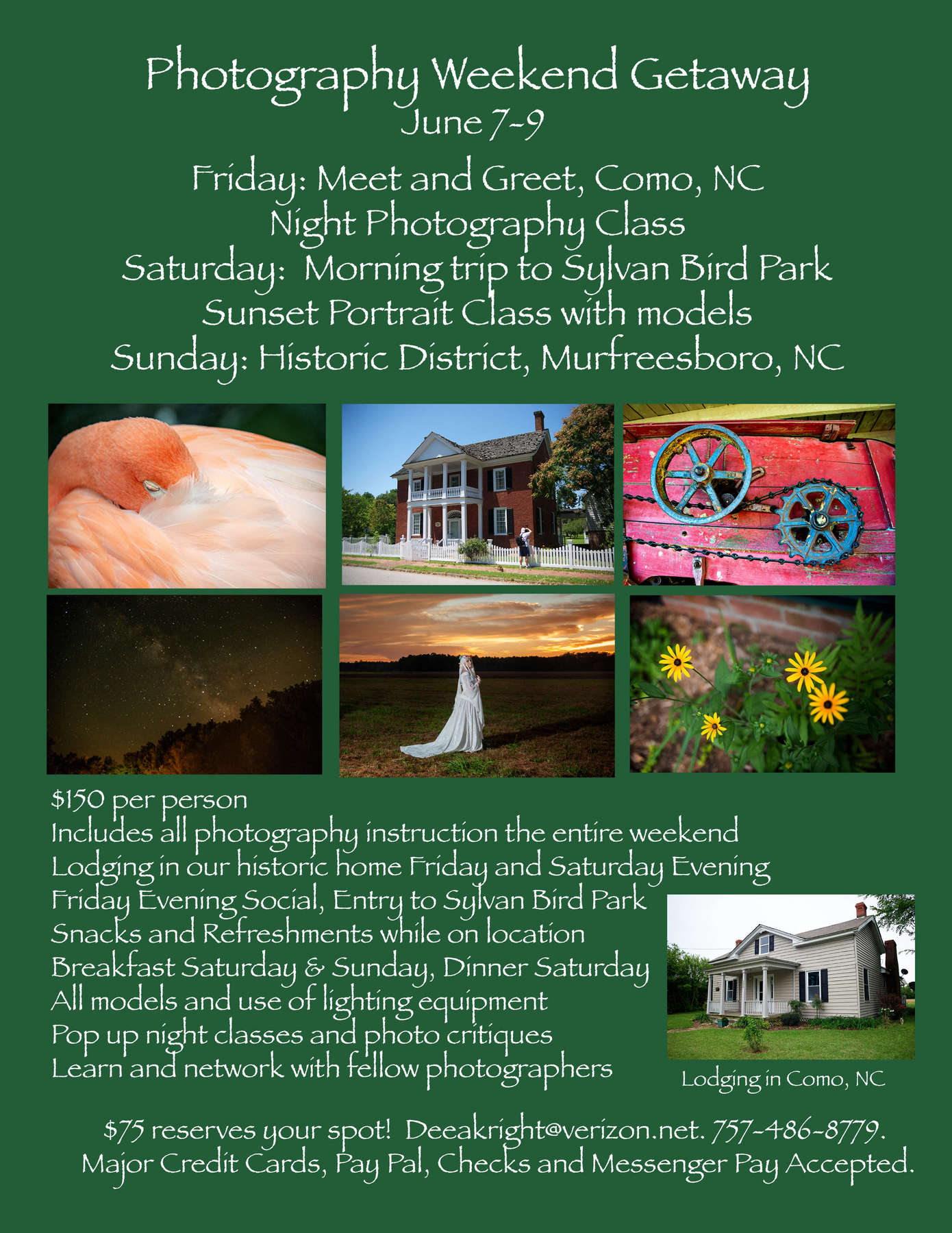 What to Bring:
Any gear you want to use. Remember it's better to have it and not use it, than it is to need it and not have it.
A tripod for the Night Sky classes. Small flashlight or you can use your phone.
Bug Spray.
Comfortable Walking Shoes, and a sweater or jacket for the cool evenings in the country.
Money for lunch, dinner and souvenirs.
A willingness to learn, meet new people, and have fun!
What's Provided:
Wine and Cheese Friday evening, Breakfast Saturday and Sunday, possible dinner on Saturday, bottled water and snacks during the day. Lodging at one of our historic homes. Entry into Sylvan Bird Park. Use of models and lighting equipment. Access to my brain.
What to Expect:
A 1.5 hour drive from Virginia Beach, VA to the workshop's "basecamp" in our historic farmhouse at 111 Spiers Road in Como, NC.
A workshop centered around learning while shooting. Beginner, intermediate or pro...there are no levels here.
Individual attention when you need it from me, and from the other attendees. We're a friendly bunch!
Access to my 38 years of experience as a professional photographer and photography teacher.
Awesome photos! You'll have the chance to photograph models, nature, birds and more birds, beautiful landscapes, architectural details, the Milky Way, whatever you like!
Access to lighting equipment such as studio strobes, and transmitters. (If you have these things, feel free to bring them. If not you'll still be able to play.)
Fun memories and new friends!
Itinerary (may change):
Friday, June 7, 2019: Arrive anytime you can after work. Or come in early to get settled. If some people want to come in early I can be available for specific questions or portfolio reviews. We'll have a meet and greet at the farmhouse around 6pm with wine and cheese. Once the sky gets dark, there'll be a class on photographing the Milky Way, the moon, the stars...whatever we have (weather permitting). Or I'll do a class on light painting/light writing. Heck I might do it all!
Saturday, June 8, 2019: Hop out of bed early for a quick breakfast (provided). Carpool to Sylvan (45 minute drive) to explore and photograph all the wonderful birds and creatures at Sylvan Bird Park. Afterwards we'll stop for lunch and questions at a local restaurant (there are some great barbeque places near the park). Spend the late afternoon relaxing at the farmhouse, or working on your photos you took that morning. That evening we'll have dinner at the farmhouse or at a local restaurant in town followed by a class on sunset portraits (matching flash to ambient light class) with models. Then once the sun goes down, you can relax, sit with me for photo critiques, or try some more night photography...whatever you like.
Sunday, June 9, 2019: Another quick breakfast (provided) at the farmhouse. Then we'll head into nearby Murfreesboro, NC (10 minute drive) for a day of shooting and learning in and around the historic district. We'll start at our property, the historic Murfree-Willliams House which was built in 1801 by the family that founded both Murfreesboro, NC and Murfreesboro, TN. Next we'll walk across the footbridge by the house to the historic cemetery. Also we'll check out the old farm machinery at the Agricultural museum across the street, and walk around photographing the beautiful homes in the historic district. Afterwards you'll have the afternoon to head back home, sightsee, or do more shooting.
Accommodations:
The Rectory. Originally built as the rectory for the nearby church in 1880, we purchased the house and restored it from uninhabitable to a four bedroom/2.5 bath home that sleeps up to 8-9 people. Sleeping for another (mildly adventurous) person is available in the private Cottage behind the house. (The cottage is air conditioned, but doesn't have a bathroom, so we'll leave the back door to the main house open for you!) The house is located in Como which is so small it literally is one street: so you'll be out in the country without the noise, people and ground light of a big town. (it gets dark out there, which is great for photographing the night sky) Behind the house are farm fields as far as you can see and the town's water tower. The sun setting over the fields is gorgeous, and the water tower makes for some fun night photography. During the early evening you might even get a chance to photograph the home's hummingbirds.
Sleeping: five single beds, one queen, one king
Links: Sylvan Bird Park https://www.shwpark.com, Murfreesboro, NC http://www.murfreesboronc.org/
What Do I Do Next?
Call (757-470-1979), email (deeakright@verizon.net), FB message, or text (757-470-1979) me with credit card info. $75 is required to reserve your spot in the workshop.
Find a tripod if you don't already have one. Put the date on your calendar. Start counting the days.
Your deposit is NON-refundable, but can be applied to a later workshop or transferred to a friend if you can't go. Final payment is due 1 week prior to the workshop.